This week's guest post comes from Sean Lind from Silver Oak, you can follow him on twitter @SeanLind. Take it away Sean:
Anyone who enjoys board games has found themselves in a store standing in front of a wall of games with absolutely no idea what to buy.
With hundred of games to choose from the choice is anything but simple. This is why I've put together the How to Choose the Perfect Board Game flowchart. Start at the top and follow your way until you get to the title of a game.
If you already have that game back up to your previous choice and take a different fork. Eventually you'll end up with something worth playing.
If you answer the questions truthfully, chances are you're going to end up with a game you thoroughly enjoy. I've vetted this list to ensure every game on it is worth every penny. That being said not everyone will enjoy every game on this list, be sure to answer each question as truthfully as possible, or you might end up with something you hate.
I actually made this flowchart after hoping to find one to use myself. Every now and then I'm in the mood to pick up a new game, but never have a clue what to get. Without this I might have ended up with something I hate, like Battlestar Galactica.
P.S. There is nothing wrong with Battlestar Galactica, it's just an everyone vs. the board game. I like to destroy my friends, and then gloat about it after.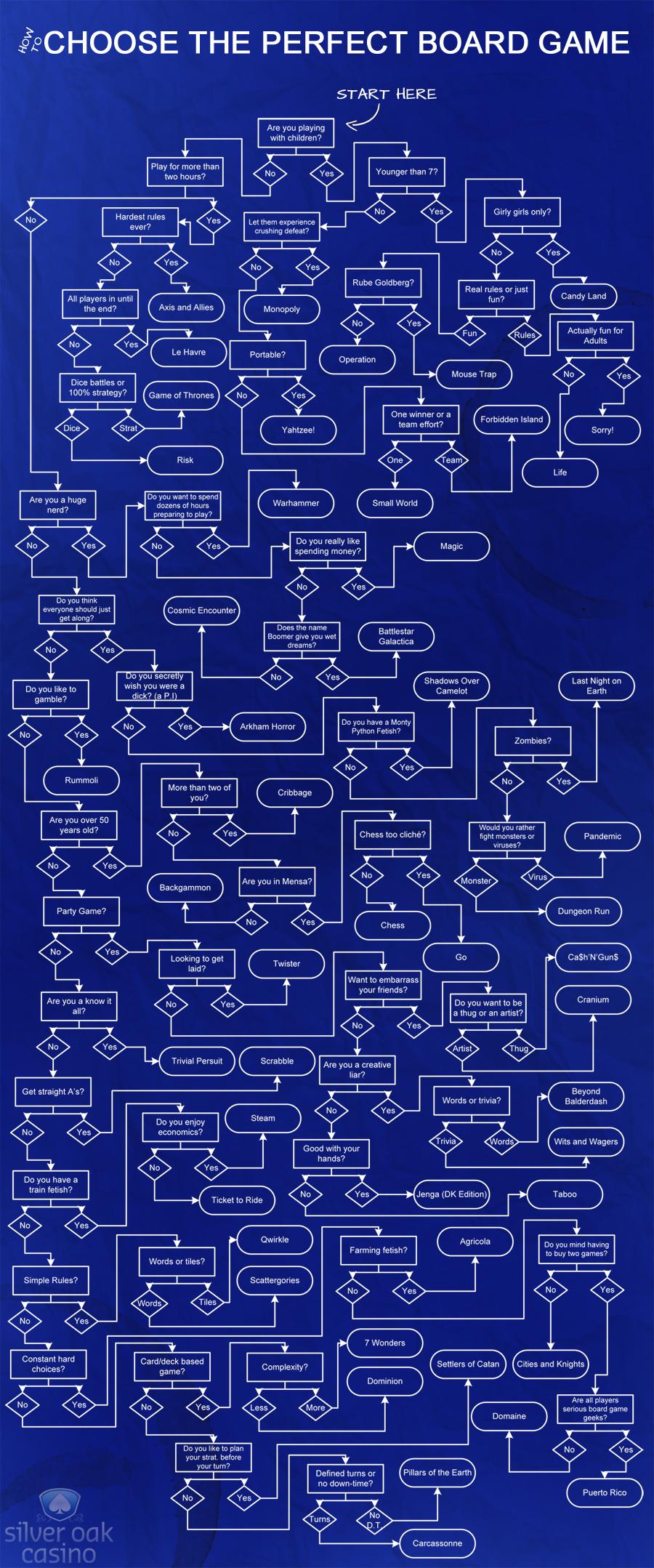 Click to Enlarge
P.P.S. Sean, if you aren't destroying your friends in Battlestar Galactica I think you're playing it wrong!
Yours,
The Cylons
Thanks Sean, in all seriousness though there are some great games on this list, I don't necessarily agree with the logical paths taken to reach them, such as "Are you playing with children" -> "Are they younger than 7" -> "Let them experience crushing defeat" -> "Monopoly" but I can't deny that a lot of the games on this list are worth playing and there are worse ways to pick a new game to buy.
If anyone else has an interesting method for choosing new games go ahead and share it with us in the comments below. I'll be back on Wednesday with another review, until then have fun gaming!
Chris